Dehumidifiers – Wall Mounted AD 110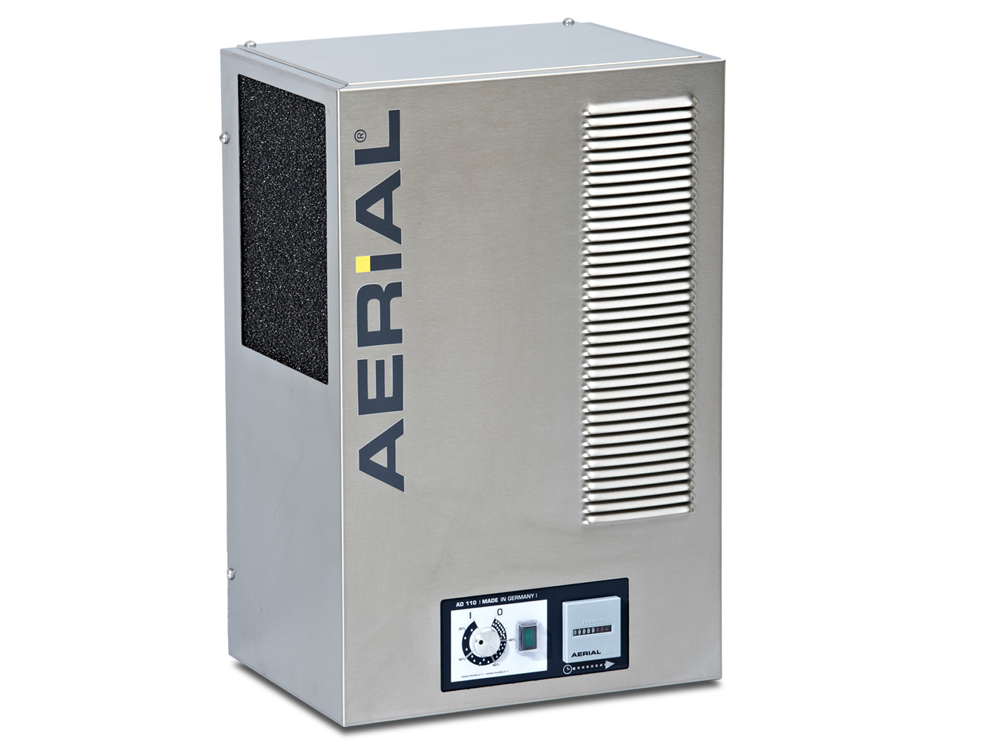 ​Wall mounted dehumidifiers.
Features
Case made of stainless steel
Air intake left through air filter, air outlet at the front, draft-free, through slanted slats
Space-saving wall mounting
Fully hermetic piston compressor
Energy-efficient axial fan
Maintenance-friendly refrigerant circuit with service connector
Condenser and evaporator made of copper tubes with aluminium fins
On-demand hot gas defrost system
Hygrostat for variable humidity control
Operation hour counter
Socket thermostat
Optional accessories
Pump kit PK-Uni
Replacement filter
Condensate discharge hose 12 x 2mm
Hose clip discharge hose 12 x 2/15 x 2mm
Wall mounting as standard
Applications
Domestic Pools – Indoor
The problem
An indoor swimming pool is a wonderful leisure and exercise environment, but there are many important factors to consider when planning and designing a domestic pool. Maintaining a comfortable pool environment requires the pool water and air to be heated, and this is a significant energy use. As a result of continuous evaporation while the cover is removed, the pool water loses a significant quantity of heat, and the resulting warm, humid air is not only uncomfortable, but the high humidity poses real problems for the building structure. Left unchallenged, high humidity can be a major problem in indoor swimming pools and spas. Prolonged exposure to high humidity causes walls, decorative finishes and roofs to deteriorate rapidly. High humidity causes personal discomfort and unless the environment is controlled to a comfortable humidity in the range 55%-65%, bathers will not benefit from enjoying the use of their swimming pool.
The solution
Excess humidity must be removed from the pool hall to protect the pool building from destructive condensation and moisture damage, whilst maintaining a safe and comfortable leisure environment for bathers. In the past, the conventional approach to combating humidity came in the form of wasteful air extraction from the pool hall. The advanced range of Zoe INTL heat pump dehumidifiers provide an efficient and economical solution without using large quantities of fresh air. Dehumidifiers
From wall-mounted dehumidifiers for humidity control, with options for air heating, to the Variheat range of sophisticated environmental control systems, Zoe INTL have systems for every domestic pool. By recovering the latent energy in the moisture laden air of a pool hall using a heat pump dehumidifier, a Zoe INTL swimming pool dehumidifier will reduce the humidity in the pool hall, while returning energy to heat the air. Variheat systems start with ducted dehumidifiers, through to sophisticated environmental control systems with heat recovery to pool water.
Heat pumps for water heating
Zoe INTL Pro-Pac swimming pool heat pumps are specifically designed to economically provide swimming pool water heating. Zoe INTL Pro-Pac Y heat pumps are designed to operate in air temperatures as low as -15°C and are suitable for heating the water in indoor pools all year round.
Cost savings
Removing humidity from the air enables Zoe INTL to absorb latent energy and return it to the air as useful heat. The heat pump technology converts 2.5kW to air heating for every 1kW of electricity consumed – a real bonus for running costs! For water heating, Zoe INTL heat pumps can save up to 75% for both operating costs and carbon savings against direct electric heaters, and up to 47% operating cost saving against fossil fuel boilers and up to 60% carbon saving against fossil fuel boilers (based on UK energy costs).
Installation
Fully self-contained systems, Zoe INTL dehumidifiers require minimal installation. When it comes to operation, Zoe INTL units offer quiet, reliable and safe performance. Flexibility is built-in. Wall mounted dehumidifiers come with an adjustable air discharge allowing air to be directed in an 80° range between horizontal and vertical, thus allowing installation at high or low level. Variheat systems are available in a wide range of configurations to suit a variety of pool types and plantrooms. On the basis of pool surface area, water temperature, air temperature, humidity and bathing activity, Zoe INTL dehumidifiers and heat pumps can be designed to accommodate any requirement. All products are supported by an in-house applications department, distributors and service network.
Storage
With uncontrolled storage comes the high risk of oxidisation and it is therefore essential to control and reduce humidity. Storage of such equipment as steel at the correct humidity is critical and can often reduce the requirement for additional surface protection systems whilst in storage.
Providing the correct environmental conditions to preserve these items is vital and Zoe INTL's range of powerful dehumidifiers offer the ideal means of preserving and protecting them from humidity damage. They are equally suitable for humidity control in warehouses, castles and historic buildings where excess humidity is a significant problem without a professional dehumidification solution.
How a dehumidifier works
The high-performance dehumidifiers recirculate the air and physically remove moisture from it. This alleviates the need to continuously reheat incoming air. Not only that, the units convert energy taken out of the room as moisture to provide useful heat to warm the room, accelerating the drying process.
Effective dehumidification provides maximum protection in museums and historic buildings where priceless exhibits and artefacts are stored. For example, if the relative humidity is too high, condensation can form on surfaces and mould and rot can set in, and the rising and falling of humidity levels can cause degradation. This can, however, be avoided by maintaining the relative humidity at both correct levels, and importantly at a stable level. Their functionality and easy operation make them ideal for large period properties, museums and archives and anywhere where preservation is vital.
Cost savings
Typically, as a by-product of the dehumidification process, for every unit of energy that a our dehumidifier consumers, it will convert 2.5 times this amount to useable heat. The potential energy savings are huge. In fact, compared to using heating to try and control humidity levels, cost savings of 500% are not unusual. The units have built in humidity control, so will never waste energy when the correct humidity is reached, and there is no possibility of drying out the space too much.
Installation
Our dehumidifiers have a flexible design and are fully packaged, easy to install and can operate efficiently over an ambient air temperature range of between 0 and 40°C.
Zoe INTL manufacture dehumidifiers in a range of sizes to suit any space. Whatever you need, Zoe INTL, Calorex, Aerial and Master have the solution.
All products are supported by an in-house applications department and nationwide service network.