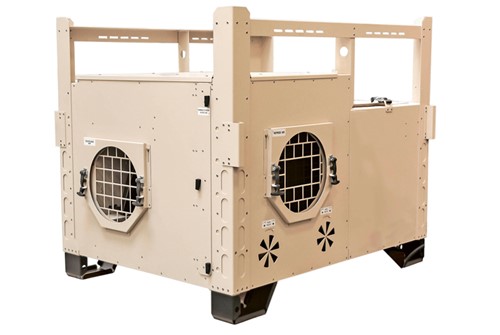 The AC-M16 air-conditioner is a transportable unit, developed primarily to provide air-conditioning in temporary or transportable buildings or tents. It is a small light weight unit made of aluminum and a rigid steel corner frame. The unit is designed to be placed outside, with supply air and return air ducted to the shelter.
Features
The AC-M16 is capable of maintaining the shelter temperature at +20-25°C when the shelter is built accordingly
Designed for optimal utilization of a standard 20" ISO container (16 pcs)
The AC-M16 is built into a strong metal frame with insulated panels where relevant, powder coated
Top finish painting is standard sand colour
Scroll compressor for a high degree of reliability and low noise level
Automatic phase surveillance
Sequential start of units possible
HP/LP pressostat switches ensuring long compressor lifetime
Fresh air intake
Four way fork lift handling
Easy strap down on air cargo pallets and stackable (two units on top of each other)
Optional accessories
Insulated duct Ø315mm
Uninsulated ducts Ø315mm (flexible duct and air distribution duct)
Storage bags for uninsulated ducts
Cover for the unit
Ground rod
Wheels and wheel bracket (which can also hold the room thermostat during transportation)
Applications
Tents
Military camps
Relief camps
Work camps in oil and gas industry
Applications
Tent cooling
Some environments require particularly resistant units. That's why our rugged and reliable mobile heating and cooling solutions are the preferred choice for military and humanitarian camps worldwide.
​Zoe INTL mobile heating and cooling units are used in military camps, relief camps, field hospitals and at similar sites. They comply with advanced AQAP requirements as well as the ISO 9001 and 14001 standards.
For more than two decades, Zoe INTL has been a preferred supplier of field deployable mobile heating and cooling units for military and humanitarian field camps. Zoe INTL range has been adopted as a NATO standard and we are acknowledged around the world for our extensive expertise.
Mobile heating and cooling solutions
Site-specific solutions
Our solutions are used in military camps, relief camps, field hospitals and at similar sites. We work closely with tent and container suppliers to develop site-specific, customized solutions. All of our units are produced at state-of-the-art Zoe INTL manufacturing facilities in Denmark and are built to comply with advanced AQAP requirements as well as the ISO 9001 and 14001 standards.
Extreme versatility
Operational at temperatures from -40°C to +60°C, our mobile heating and cooling systems are exceptionally versatile, rugged and reliable. They are easy to set up and maintain, and our light-weight designs and materials keep logistics costs low.
You can rely on us
We are known for our stock readiness, thorough documentation, expert support and extensive training courses and service agreements. Our R&D staff frequently visits our customers and the camps they operate to stay up-to-date on emerging needs.
Maybe that's why so many governments, aid agencies and NGOs choose Zoe INTL as their preferred supplier when it comes to ensuring comfort in the field.
All products are supported by an in-house applications department and nationwide service network.