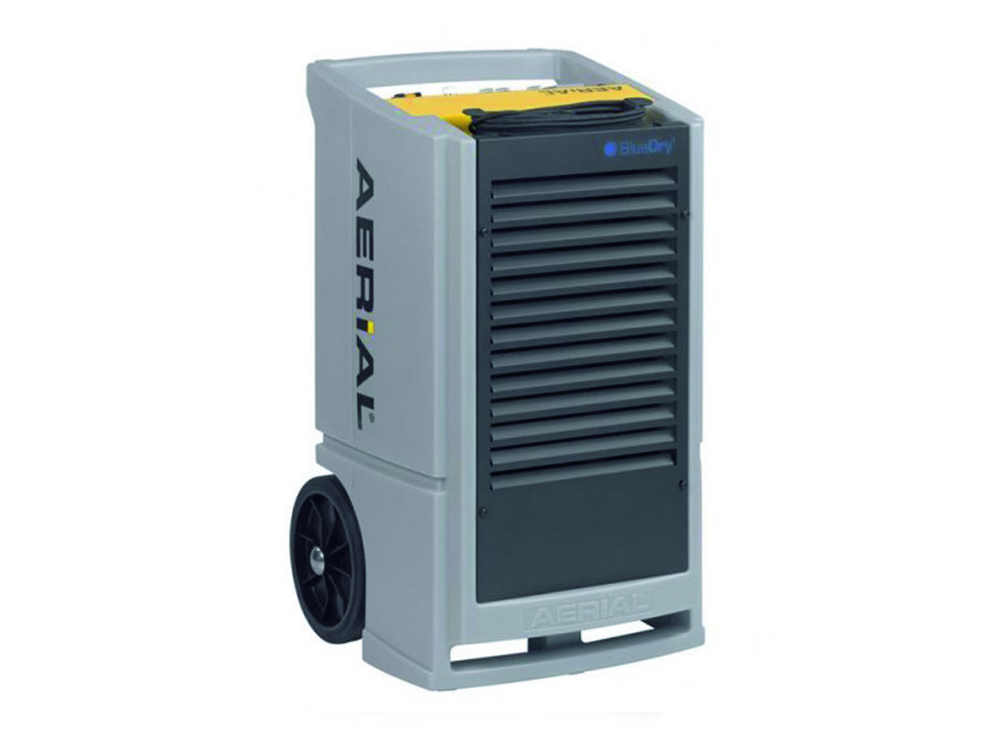 These units are produced to a high class finish and are used in building and water damage drying as well as in for industrial and commercial applications, in water management and for protecting and preserving the value of assets.
Features
Shock and impact-resistant roto moulded housing, available in your colours and with your logo
Floor standing. Optimum mobility by two big wheels made of resistant, durable material, wide choice of grip and carry options
Blue-Dry®-Technology for particularly energy-saving operation – even at low humidities and temperatures
Automatic hot gas defrost
Built-in hygrostat for variable humidity control, operating hours, neons for 'defrosting', 'tank full' and 'moisture OK' as standard
Version AD 750-P and AD 780-P are with included condensate pump as a standard
Calibrated kWh-counter (acc. To MID) currentless reading
Applications
Water damage & Restoration
Zoe INTL mobile drying range has dehumidifiers to suit every application whatever size or demand.
The groups professional restoration series consists of the efficient and stylish Zoe INTL CDT dehumidifiers. They offer quick and easy control for both damage service companies and the building industry. The CDT units are renowned for their user-friendliness, great digital control and light yet robust design.
Damage control in case of flooding, burst water pipes or as a side-effect from fire fighting requires fast and efficient dehumidification. This is why damage service companies all over the world prefer the Zoe INTL CDT range of mobile dehumidifiers for the job. They are fast and energy efficient. They offer precise digital settings, service information, easy fault-finding and exact specification of hour and energy consumption as well as readings of temperature and relative humidity. On top of this they are designed for optimal transport and handling.
How a Zoe INTL dehumidifier works
All units in Zoe INTL CDT range are condensation dehumidifiers. An integral fan draws humid air into the dehumidifier and passes it through an evaporator. When the warm humid air meets the cold surface of the evaporator it condenses into water which is led to the water container. In the process the dry air is heated and returned to the room. The repeated circulation of air through the unit reduces the relative humidity, giving very rapid but gentle drying.
Easy and safe transport
The CDT units have been carefully designed for easy handling and transport. Adjustable and fixed handles ensure safe and convenient handling and operation. Big rubber wheels make the CDT's easy to move both up and down stairs and across seemingly impassable areas. The wheels are in line with the sides of the unit to make it as narrow as possible and to protect doors and panels from unnecessary knocks. During transport and storing the CDT units can be stacked requiring as little space as possible.
Master products
As well as Zoe INTL and Calorex mobile products we can also offer Master units for rental and general purpose drying. These units come in a range of styles and sizes and are a great addition to the groups range.
Zoe INTL manufacture portable dehumidifiers in a range of sizes to suit any space. Whatever you need, Zoe INTL, Calorex, Aerial and Master have the solution.
All products are supported by an in-house applications department and nationwide service network.
Storage
With uncontrolled storage comes the high risk of oxidisation and it is therefore essential to control and reduce humidity. Storage of such equipment as steel at the correct humidity is critical and can often reduce the requirement for additional surface protection systems whilst in storage.
Providing the correct environmental conditions to preserve these items is vital and Zoe INTL's range of powerful dehumidifiers offer the ideal means of preserving and protecting them from humidity damage. They are equally suitable for humidity control in warehouses, castles and historic buildings where excess humidity is a significant problem without a professional dehumidification solution.
How a dehumidifier works
The high-performance dehumidifiers recirculate the air and physically remove moisture from it. This alleviates the need to continuously reheat incoming air. Not only that, the units convert energy taken out of the room as moisture to provide useful heat to warm the room, accelerating the drying process.
Effective dehumidification provides maximum protection in museums and historic buildings where priceless exhibits and artefacts are stored. For example, if the relative humidity is too high, condensation can form on surfaces and mould and rot can set in, and the rising and falling of humidity levels can cause degradation. This can, however, be avoided by maintaining the relative humidity at both correct level, and importantly at a stable level. Their functionality and easy operation make them ideal for large period properties, museums and archives and anywhere where preservation is vital.
Cost savings
Typically, as a by-product of the dehumidification process, for every unit of energy that a our dehumidifier consumers, it will convert 2.5 times this amount to useable heat. The potential energy savings are huge. In fact, compared to using heating to try and control humidity levels, cost savings of 500% are not unusual. The units have built in humidity control, so will never waste energy when the correct humidity is reached, and there is no possibility of drying out the space too much.
Installation
Our dehumidifiers have a flexible design and are fully packaged, easy to install and can operate efficiently over an ambient air temperature range of between 0 and 40°C.
Zoe INTL manufacture dehumidifiers in a range of sizes to suit any space. Whatever you need, Zoe INTL, Calorex, Aerial and Master have the solution.
All products are supported by an in-house applications department and nationwide service network.