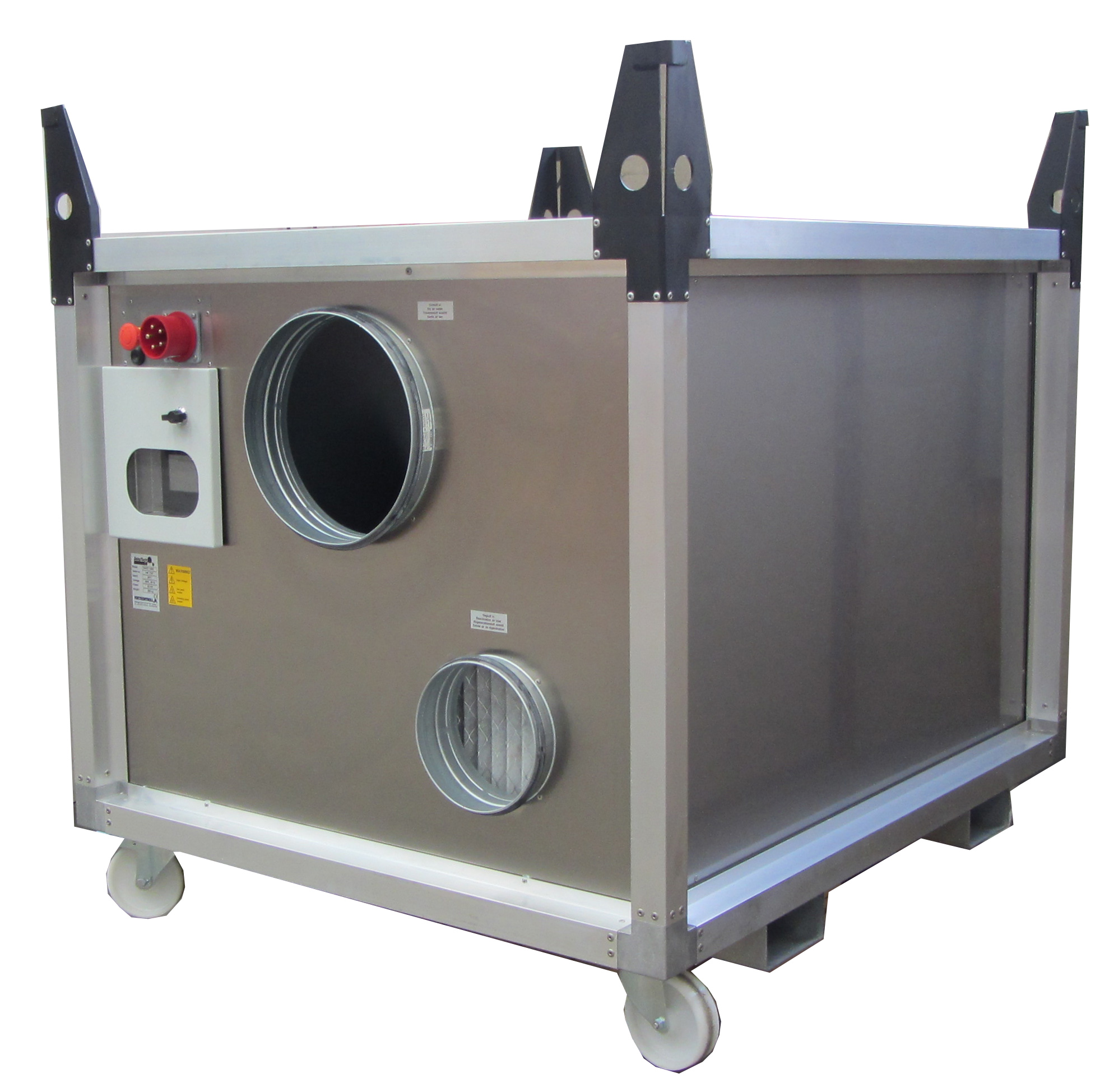 The DehuTech mobile range are fully packaged ruggedized desiccant dehumidifiers, with all components weatherproofed within an insulated stainless casing protected by an external frame – designed specifically for the rental and recovery markets.
​Features
Weather proof
Heavy duty outer frame
Lifting eyes
Stackable (3 high)
Forklift guides
Insulated housing in stainless steel
PTC reactivation heater, eliminates the risk of overheating and allows stepless capacity control
Touchscreen PLC controller, with humidity control via built-in probe
Rotation guard, filter alarm, run-time-meter and service alarm as standard
Fan speed control
Applications
Water damage & Restoration
Zoe INTL mobile drying range has dehumidifiers to suit every application whatever size or demand.
The groups professional restoration series consists of the efficient and stylish Zoe INTL CDT dehumidifiers. They offer quick and easy control for both damage service companies and the building industry. The CDT units are renowned for their user-friendliness, great digital control and light yet robust design.
Damage control in case of flooding, burst water pipes or as a side-effect from fire fighting requires fast and efficient dehumidification. This is why damage service companies all over the world prefer the Zoe INTL CDT range of mobile dehumidifiers for the job. They are fast and energy efficient. They offer precise digital settings, service information, easy fault-finding and exact specification of hour and energy consumption as well as readings of temperature and relative humidity. On top of this they are designed for optimal transport and handling.
How a Zoe INTL dehumidifier works
All units in Zoe INTL CDT range are condensation dehumidifiers. An integral fan draws humid air into the dehumidifier and passes it through an evaporator. When the warm humid air meets the cold surface of the evaporator it condenses into water which is led to the water container. In the process the dry air is heated and returned to the room. The repeated circulation of air through the unit reduces the relative humidity, giving very rapid but gentle drying.
Easy and safe transport
The CDT units have been carefully designed for easy handling and transport. Adjustable and fixed handles ensure safe and convenient handling and operation. Big rubber wheels make the CDT's easy to move both up and down stairs and across seemingly impassable areas. The wheels are in line with the sides of the unit to make it as narrow as possible and to protect doors and panels from unnecessary knocks. During transport and storing the CDT units can be stacked requiring as little space as possible.
Master products
As well as Zoe INTL and Calorex mobile products we can also offer Master units for rental and general purpose drying. These units come in a range of styles and sizes and are a great addition to the groups range.
Zoe INTL manufacture portable dehumidifiers in a range of sizes to suit any space. Whatever you need, Zoe INTL, Calorex, Aerial and Master have the solution.
All products are supported by an in-house applications department and nationwide service network.
Modular Buildings
Construction sites, companies and suppliers are continuously being encouraged to use best practice beyond statutory requirements making the welfare of their staff and the general public top priority. The drying of construction equipment and gear is of extreme importance and providing the right facilities for this for the well-being of the staff is of utmost importance.
How a dehumidifier works
The high-performance dehumidifiers recirculate the air and physically remove moisture from it. This alleviates the need to continuously reheat incoming air. Not only that, the units convert energy taken out of the room as moisture to provide useful heat to warm the room, accelerating the drying process.
Cost savings
Our dehumidifiers provide an efficient and cost effective alternative to drying using heat alone. The potential energy savings are huge as every unit of energy that our dehumidifiers consumes, it will convert 2.5 times this amount to usable heat. In fact, compared to traditional heat and ventilation energy, cost savings of 75% are not unusual.
Installation
You can turn any room into a drying room just by using one of our dehumidifiers. Installations can be straightforward, as it only requires positioning, connecting a power supply and drain. The units have combined heating and drying so there is no need for separate heaters, fans and extraction systems.
Zoe INTL manufacture dehumidifiers in a range of sizes to suit any space. Whatever you need, Zoe INTL, Calorex, Aerial and Master have the solution.
All products are supported by an in-house applications department and nationwide service network.